Serving Up Server Education 
All month long, TechWise Group has been sending you tips about different types of servers and how they work. It's important to know what kind of technology you are using and how it works to support your business. With the end of support for Windows Server 2003 fast approaching, we thought it would be helpful for you to understand some of the different types of server configurations – on premise, in the cloud and hybrid. 
Tech Tips of the Month:
What is a Server    What is a Cloud Server
What Is a Hybrid Solution    Basics of the Cloud
 

Time Is Running Out for Support on Windows Server 2003!
Are you running on a Windows 2003 Server? Its time to upgrade! Time is running out for support on 2003 servers and Microsoft wants you to be prepared for the end of support date coming this July.
For more information about how to take action and upgrade visit Windows 2003 Server End of Support Update
Get a Surface through TechWise Group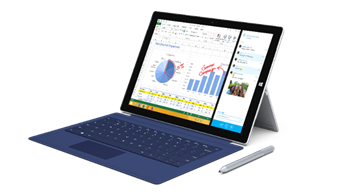 Are you considering the Surface 3 or Surface Pro 3 for your business?  TechWise Group is now a Surface re-seller. Contact Us to learn about current promotions, leasing options, models and accessories. 
Congratulations!
 Edward Robson Named "Rising Star" 
TechWise Group would like to congratulate Edward Robson for being named "Rising Star" by Super Lawyers Magazine for the third consecutive year. Great job Ed!
Gregory Heller Awarded for Law Practice 
TechWise Group is also proud of Gregory Heller of Young Ricchiuti Caldwell & Heller, LLC for receiving this year's George Douglas Amicus Curiae from the Pennsylvania Association for Justice. Nice job Greg! 
App of the Month: Periscope
TechWise Group wants to keep you up to date on new technology both in your business and in your life.  One new app that has spiked the interest of our engineering team is Periscope.  Imagine Instagram with video… and that is Periscope in nutshell. This social media app allows you to share live video of your experiences. It runs on iOS and Android.  The startup behind the app was purchased by Twitter n in March 2015.  Each live broadcast comes to life with social features to use while streaming such as the ability to leave comments and follow your activity in real time. The app makes it easy to set privacy settings so you'll always know who you are broadcasting to. Learn more and download the app for free 
Here