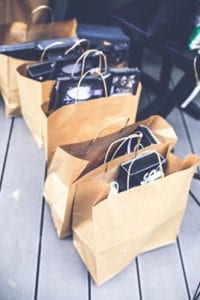 The holidays are closing in! Leaving the house to go gift-shopping has proven to be a hassle, a headache, and a horrible idea during this time of year. With online shopping being so simple and stress-free, why not avoid the crowds and surf the web instead?
The idea of being able to conveniently choose from thousands and thousands of items with just one click of your mouse (and also getting it delivered to your doorstep without moving a finger) sounds almost too good to be true! However, in 2016, this is becoming more and more common.
But be careful! This "new standard" -as with all new things- encourages people with bad intentions to try to harm others. We urge you, especially during the holiday season, to pay extra attention to the following:
Phishing schemes – Make sure to never click on links that have been sent to you in an email from unfamiliar websites! You might get redirected to a false website designed to steal your data. Instead, manually enter the link for the website into your address bar.
Lock your devices – Not doing so can grant access to unwanted visitors with bad intentions. Make sure to secure your devices with a password or code, and never share it with anyone!
Use safe apps – Are they being offered by a reliable and trusted source? Are the "permissions" they are asking for legitimate? What does their user feedback reveal?
Secure network connection – Being cautious while using public Wi-Fi is essential. Best practice: do not enter personal data such as credit card information or passwords on a public network, as those can easily be hacked.
Install security app – Protect your family, your home, your belongings, …and your data. By downloading a security app to your devices you decrease the risk of your data being stolen.
If you would like to protect your business, your data, and yourself, send us an email at gettechwise@techwisegroup.com and learn how Microsoft's products can help you.
On Our Practice Director's Wish List:
Look at the HTC Vive VR glasses! They let you see, feel, touch, and hear a virtual reality: 360˚ motion tracking allows for realistic room-scale experiences. Wireless controllers give you free range of motion. The front-facing camera lets you take a peak at the real world if needed, and also blends physical elements into the virtual world. What a holiday gift!