---
…and last but not least, here is our last Tech Tip for the month! So far, you have learned about the new Start screen and Action Center, the difference between Microsoft Edge and Internet Explorer, and Windows Ink. This Tech Tip will be all about another new feature called "Windows Hello".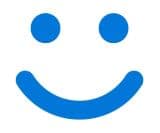 What is Windows Hello?
Windows Hello is a more personal way to sign in to your Windows 10 devices with just a look or a touch. You'll get enterprise-grade security without having to type in a password. Surface Pro 4, Surface Book, and most PCs with fingerprint readers already work with Windows Hello, and more devices that can recognize your face and fingerprint will be available in the future. You can also sign in to your PC using Windows Hello companion devices, such as Microsoft Band and some Windows 10 phones.
How to set it up
Select the Start
button, then select Settings > Accounts > Sign-in options to set up Windows Hello. Under Windows Hello, you'll see options for face, fingerprint, or iris if your PC has a fingerprint reader or a camera that supports it. Once you're set up, you'll be able to sign in with a quick swipe or glance.
To remove identification data, go to Settings > Accounts > Sign-in options. Under Windows Hello, select Remove.
How does it work?
Windows Hello biometrics lets you sign in to your devices, apps, online services, and networks using your face, iris, or fingerprint. If you forget to lock your PC or tablet when you step away, Windows Hello can use your devices that are paired with your PC to automatically lock it shortly after you're out of Bluetooth range. To set things up, you'll need to use Bluetooth to pair your phone with your PC and then turn on Dynamic lock in settings. Additionally, you can use participating Windows Hello companion devices to lock your PC or tablet.
Even if your Windows 10 device can use Windows Hello, you don't have to. If it's the right choice for you, you can rest assured that the info that identifies your face, iris, or fingerprint never leaves your device. Windows never stores pictures or images of your face, iris, or fingerprint on your device or anywhere else.
When you set up Windows Hello, it takes the data from the face or iris sensor or fingerprint reader and creates a data representation—not an image; it's more like a graph—that is then encrypted before it's stored on your device.
To help Microsoft keep things working properly, to help detect and prevent fraud, and to continue improving Windows Hello, they collect information about how people use Windows Hello. For example, info about whether people sign in with their face, iris, fingerprint, or PIN; the number of times they use it; and whether it works or not is all valuable information that helps us build a better product. This data is stripped of any information that could be used to specifically identify you, and it's encrypted before it's transmitted to Microsoft.
---
Was this Tech Tip helpful? Please let us know by filling out our tiny survey!