---

Techtoberfest [Part 1]
It's officially Fall and therefore the season of chilly weather, colorful leaves, and pumpkin-spiced everything. With last month's Tech Tips being all about Student Hacks, we wanted to continue our theme of "Life Hacks" for one more month, just to at least attempt to make everyone's lives a little simpler. Stay tuned!
---
Make your smartphone battery last longer
You most likely already know a few basic tricks that can help you extend your smartphone's battery life, such as turning off Bluetooth or Wi-Fi, and shutting down background applications. However, keep in mind that your phone's screen is a major energy suck and by dimming it's brightness whenever possible you can conserve energy. If you feel comfortable doing so, you can even limit your screen's lock-screen notifications. While charging your phone, you might want to consider turning on Airplane mode, closing apps you aren't currently using (a lot of those games are huge battery drainers!), and maybe even turn off Location Services.
DIY phone-charging station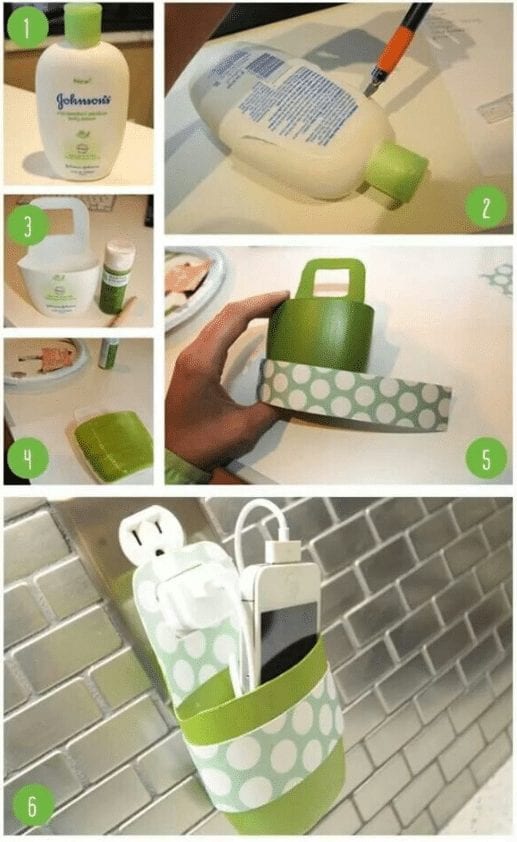 Speaking of battery life, you will obviously run out of power at some point, despite best practices to save energy. This neat little DIY project will help you keep your cords tidy, your phone off the ground next to a wall plug, and your place look clean and tidy!
You need:

an old plastic bottle (lotion, shampoo,…) that will fit your phone

scissors

decorations such as fabric, colorful tape, etc. (optional)

First, you will have to clean that bottle until no residue is left of whatever was originally in there.

Once the bottle is clean and dry, decide how high you want the front and how low you want the sides of the holder to be and cut accordingly (see picture on the right). Make sure to cut the back of the bottle curved upwards.

Draw a curved box shape on the upper back of the bottle and cut it out (you can adjust the shape of that box to the shape of your charger).

You can decorate the bottle to your liking and when you are done, you can either hang the holder directly over the plug as shown in the picture, or, if you are worried about any electrical/outlet issues, simply attach a hook next to the outlet to hang the holder from while the phone is plugged in.
(Source: Pinterest)
Repurpose a Cassette Case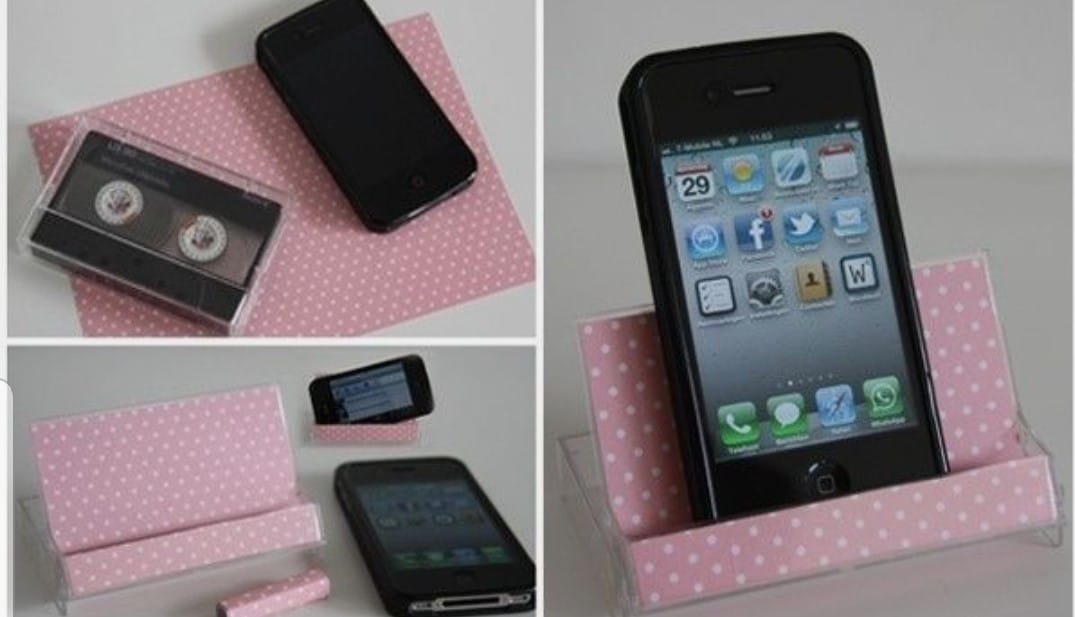 DO NOT throw out your old cassette cases ! Turns out those old relics are actually still good for something, even after all these years! As you can see in the picture to the left: all you have to do is decorate the case and boom – you got yourself a neat looking phone stand. Quite frankly, decorating it isn't even necessary if you are all about functionality… simply open up the case all the way and you are ready to go!
(Source: Pinterest)
---