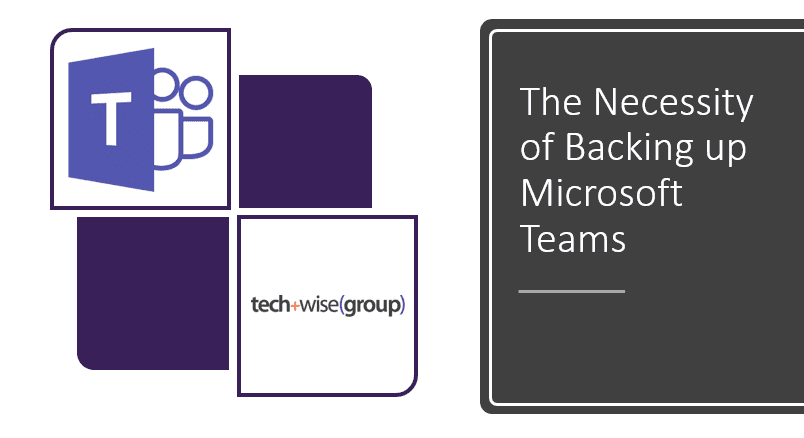 If Teams is Stored in the Cloud, Shouldn't My Data Be Protected?
Teams is a unified communications platform that integrates with Office 365. It is a Software as a Service (SaaS) solution which means it is accessed and stored in the cloud.
The cloud does protect your data by enabling retention and versioning features to preserve your business-critical files. But if something goes wrong and your data is lost or deleted, it is not enough protection on its own.
Why Do I Need to Backup Teams?
Sometimes disaster hits and your company's critical information is lost. It can be costly if not impossible to restore that data because there are certain risks that SaaS providers have no control over.
Consequently, it is important to backup Microsoft Teams for the following reasons:
Accidental Deletion
Users are human. It is all too common for a user to make a mistake and delete cloud-based data. The situation gets worse when users don't realize that data is missing. When you delete a file from Teams, it will also be deleted from SharePoint where it is automatically stored. As time passes, that information becomes irretrievable. It is also common for users to unknowingly overwrite correct data with incorrect data.
Backup plans guarantee that your data can be restored quickly and efficiently regardless of human error.
Archiving Content
Backup and recovery strategies are great to preserve content and can be utilized to archive Teams data. This is significantly more efficient than downloading materials locally. Your company is able to retain and secure files for longer periods of time which is critical if your organization is required to keep information for compliance purposes. SaaS providers will likely not preserve your data for months or years.
Employees that Leave the Company
When an employee transitions out of a company, their user accounts get deactivated. But what happens to the data associated with those accounts? Most of the time, that data is lost because many companies don't have an efficient way to export it within the Teams application. A backup strategy will ensure that all information gets transferred safely.
Corrupted Third-Party Apps
Teams integrates with hundreds of third-party applications. While this is a great functionality, applications can go rogue. That means a third-party app can malfunction, delete records, or corrupt data. While add-on software continues to grow every day, it is wise to take precaution and ensure your data is always retrievable.
Malicious Users
We never want to assume the worst in people, but a resentful employee or contractor with the right user credentials is also a common cause for data loss. A Teams user with certain access rights can do a lot of damage which is another reason your company should consider backup and restore options. It is important to always take security precautions.
Next Steps: Cloud-to-Cloud Backup for Microsoft Teams
You are responsible for your data. That's why cloud backup for Teams is the best way to securely retain information no matter what happens.
Cloud-to-Cloud Backup Solutions Give You:
Unlimited, automated backups with little to no configuration
Filters that enable your organization to easily select which content you want to backup
On-demand and item-level restore which gives you access to all of your business-critical files, conversations, chats, Planner, and tasks within Teams
Increased protection from cyberattacks or data leakage with features that establish compliance regulations around sensitive data
Full-text search capability to easily recover and locate data
Interested in learning more? Contact TechWise Group to establish a backup and recovery strategy to protect your data.