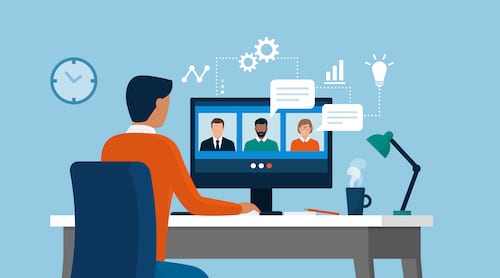 Teams Voice Option: Microsoft 365 Business Voice – Tech Tip for July 6, 2021
---
Microsoft has proclaimed FY 2022 "Year of the Phone". In our opinion, a more accurate description would have been "The End of the Phone as We Know It". With so many companies moving to remote and hybrid work models, the traditional desk phone and phone system has quickly gone the way of the dinosaur. Some organizations have adopted Microsoft Teams as a replacement for legacy phone systems. Our July Tech Tips will focus on Voice options for Microsoft Teams for both Business and Enterprise users. This week, we start off with a look at Microsoft Business Voice.
What is Microsoft 365 Business Voice?
Microsoft 365 Business Voice adds cloud-based telephony to Teams, creating a single place for all your organization's communication and collaboration needs. Business Voice lets you make calls to anywhere, from any device – computer, phone, tablet, etc.
Microsoft 365 Business Voice is available either as included features with certain packages, or as optional add-on plans. When you're subscribed to a Microsoft voice service, in most cases, Microsoft becomes your phone system, your phone line provider and your long-distance provider. This can reduce or eliminate other ancillary systems, complexities and costs.
Who is Microsoft 365 Business Voice For?
Microsoft Business Voice is part of the Microsoft 365 Business SKUs intended for companies up to 300 users. It is excellent for any company that needs their day-to-day phone system to provide dial in, dial out, voicemail, voicemail transcription and voicemail-to-email, audio conferencing, call forwarding and presence information. It is especially good for both in-office and remote employees on a range of devices.
When isn't Business Voice the Right Solution?
Business Voice may not be the right solution today for certain uses, such as call centers, integrated voice response applications, systems that require hardware integration (like to unlock a door from a phone in the office), or for multinational companies with voice needs in areas that have government restrictions on permissible voice services.
Pros & Cons of Microsoft 365 Business Voice
To determine if Microsoft 365 Business Voice might be the right option for your organization, review the following pros and cons.
Pros
Good mobility – Access your phone system from anywhere on any device, all you need is an internet connection.
Less expensive than the average VoIP phone system – The average cost of a VoIP phone system is between $25 and $40 per user/month (source) whereas Microsoft Business Voice is $20 per user per month.
Seamless integration with the communication and collaboration tools you already use every day – Move from an instant messaging chat to a voice call to a video conference with full history and continuity, and easy on-screen management and control.
Cloud-based convenience – No phone system to manage, no tie to a physical site or office or location.
No additional software to manage or license – Business Voice is an add-on to your existing
Peripheral flexibility – Use almost any computer headset, camera, microphone, and speaker set that you want, or you can use telephone desk sets that are Microsoft Teams compatible and function just like a regular high-feature desktop phone.
Cons
Quality depends on internet connection


– Like all VoIP phone solutions, your call quality depends on your internet connection. If you're trying to work somewhere that has poor internet connectivity, you'll most likely have subpar service.

Built for general use – As mentioned above, Business Voice may not be the proper solution if your business has specific or complex phone needs.
Limited user capacity – Business Voice has the same limits that the Microsoft 365 Business SKUs have of up to 300 users or employees making it not suitable for larger organizations. However, there are Enterprise options available.
Interested in learning more about Microsoft Business Voice? Contact us.