---
The Windows 10 Creators Update brought a whole lot of new and improved features with it! Throughout the whole month of April, we covered one of the biggest ones: Cortana and what your truly personal assistant can do for you. During this month's Tech Tips, we will cover some of the other big ones and hope that after reading them, you will feel just as excited about them as us!
Today, we will explore the differences between Microsoft Edge and Internet Explorer (IE) 11.
---
Microsoft Edge takes you beyond just browsing!
Web Note. Microsoft Edge lets you annotate, highlight, and call things out directly on webpages.
Reading view. Microsoft Edge lets you enjoy and print online articles in a distraction-free layout that's optimized for your screen size. While in reading view, you can also save webpages or PDF files to your reading list, for later viewing.
Cortana. Cortana is automatically enabled on Microsoft Edge. Microsoft Edge lets you highlight words for more info and gives you one-click access to things like restaurant reservations and reviews, without leaving the webpage.
Compatibility and security. Microsoft Edge lets you continue to use IE11 for sites that are on your corporate intranet or that are included on your Enterprise Mode Site List. You must use IE11 to run older, less secure technology, such as ActiveX controls.

Internet Explorer (IE 11) offers enterprises additional features.
Backward compatibility. IE11 supports 9 document modes that include high-fidelity emulations for older versions of IE.
Modern web standards. IE11 supports modern web technologies like HTML5, CSS3, and WebGL, which help to ensure today's modern websites and apps work just as well as your old, legacy websites and apps.
More secure. IE11 was designed with security in mind and is more secure than older versions. Using security features like SmartScreen and Enhanced Protected Mode can help IE11 reduce your risk.
Faster. IE11 is significantly faster than previous versions of Internet Explorer, taking advantage of network optimization and hardware-accelerated text, graphics, and JavaScript rendering.
Easier migration to Windows 10. IE11 is the only version of IE that runs on Windows 7, Windows 8.1, and Windows 10. Upgrading to IE11 on Windows 7 can also help your organization support the next generation of software, services, and devices.
Administration. IE11 can use the Internet Explorer Administration Kit (IEAK) 11 or MSIs for deployment, and includes more than 1,600 Group Policies and preferences for granular control.
---
What's new with Microsoft Edge after the Windows 10 Creators Update?
1. Extensions: Microsoft Edge is already great for browsing the web, but now extensions help you do even more. Extensions are small programs that add features to your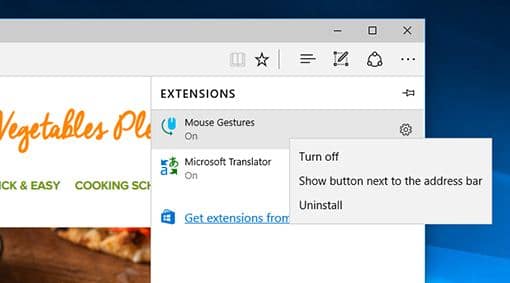 browser. You can find them in the Store and them your browser. And here is what they can do for you:
Give you new ways to interact with the browser. For example, the Mouse Gestures extension lets you navigate the web with a right-click and a flick of the mouse.
Work quietly in the background. This includes extensions to block most ads from appearing.
Add buttons to do more on a particular page. With this sort of extension, you can add a button to translate a page, or share on social media sites.
2. Touch and Swipe: If you have a touchscreen device, browse more briskly by swiping left/right to go back/forward to different webpages. Get around Windows faster with touchscreen or touchpad gestures. Try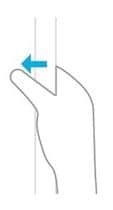 swiping to get to the information you need more quickly. To swipe, quickly slide your finger across the screen. And here is what your Swipes will do:
– Swipe in from the right side of your screen to open action center.
– Swipe in from the left to view all your open apps in task view.
– Swipe in from the top to view a full-screened app's title bar.
– Swipe in from the bottom to view the task bar in full-screened apps.
3. Pin individual tabs to the Start screen for easy access. A new tile will show up and a simple click will open the application right from your Start screen.
---
Was this Tech Tip helpful? Please let us know by filling out our tiny survey!