---

Microsoft Teams Meetings
Continuing with our Microsoft Teams theme for the month of February, which we have dedicated to the Philadelphia Eagles for winning the Super Bowl, we will be introducing the Teams Meeting feature.
The Teams Outlook Add-in requires users to sign-in to Teams using Modern Authentication. If a user does not use this method to sign-in, they will still be able to use the Teams client, but will be unable to schedule Teams online meetings using the Outlook add-in. If Modern Authentication is not configured for their organization, users should ask their IT Admin to configure Modern Authentication.

Once Modern Authentication is configured, you will be able to see a new button called "New Teams Meeting" in your calendar view in Outlook. Clicking this button opens a new Outlook invite that includes the coordinates for your Microsoft Teams meeting, which you can customize with your meeting details. Once saved, this meeting will show up in both the meeting list within your Microsoft Teams client and in your Outlook calendar. Invited participants will also have this invite on their calendar and will be able to join the meeting from either Teams or the Outlook calendar invite – all they have to do is simply click the link from within the invite or switch to the Teams client and click on the meeting link there.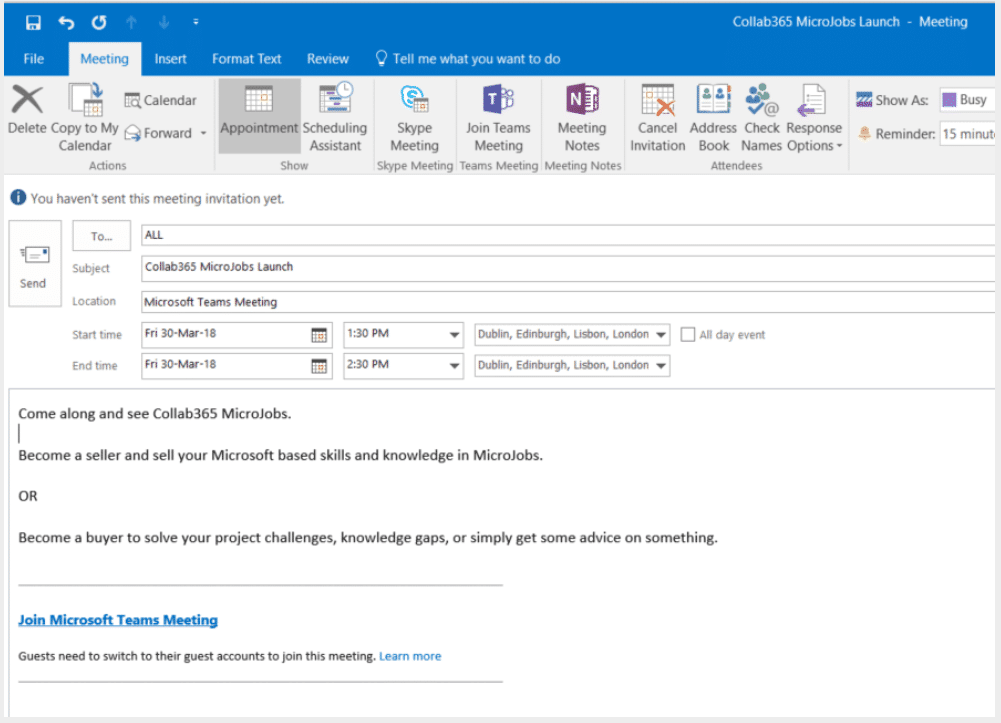 As you can see from the screen shot on the left: the meeting invite has the link to the Teams Meeting for attendees to click on when the meeting time comes, just like they would if they were using Skype Meetings.
Notes: This add-in will be automatically installed for users who have Microsoft Teams and either Office 2013 or Office 2016 installed on their Windows PC.
Who can attend Teams Meetings?
A user without a Microsoft account: Anyone with an email address and internet connection can access the call via an internet browser

A user with a Microsoft account

Anyone with a Phone: If you have Audio Conferencing, you will be able to dial in and join meetings in Microsoft Teams from almost any device, anywhere.
---