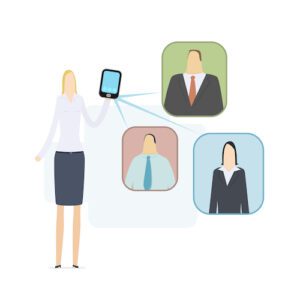 Microsoft Teams Calling & Teams Meetings: Security – Tech Tip for November 16, 2021
---
Is your organization concerned about the security of your calls and online meetings? Here are some of the many features that make Microsoft Teams Calling and Meetings secure.
Authentication: If enabled for Microsoft 365 overall, team-wide and organization-wide two-factor authentication and single sign-on (SSO) through Active Directory is enforced for both Teams Calling and Teams Meetings.
Encryption: By default, Microsoft 365 data is encrypted in transit and at rest. However, if your organization has strict security and compliance standards (for example government or DoD), end-to-end encryption (E2EE) will be available later this year for Microsoft Teams Calling. E2EE needs to be enabled at an administrator level and activated by the message sender and receiver during the call. Once activated, E2EE will encrypt outgoing messages on the sending device using an encryption key that only the sender and recipient can access. Learn more about using end-to-end encryption for one-to-one Microsoft Teams calls here.
Compliance: If your organizations needs to record calls for compliance requirements such as GDPR, policies can be put in place in the Microsoft 365 compliance center, and Teams Calling can be connected  to third party compliance recording solutions. Learn more about policy-based recording for Microsoft Teams here.
Securing Meetings: Teams provides meeting organizers with options for managing meeting participants including controlling access with use of a meeting lobby and the ability to designate presenters, mute attendees and start/stop recordings. Learn more about changing participant settings for a Teams meeting here.
Sharing: Teams enables presenters to limit what they share to only relevant content. For example, only sharing a window or document instead of an entire desktop. Learn more about sharing content in a Teams meeting here.
Want to Learn more about Microsoft Teams Calling? Contact us.
Important Microsoft Announcements:
Microsoft will begin the rollout of Windows 11 through Windows Update as an update to Windows 10 machines starting on October 5, 2021. This update can be postponed. If you need assistance with controlling the rollout of Windows 11 to your organization, please contact TechWise Group or your IT department.

Starting November 1, 2021, the following versions of Outlook for Windows, as part of Office and Microsoft 365 Apps, will not be able to connect with Office 365 and Microsoft 365 services:
Microsoft 365 Apps for enterprise (formerly Office 365 ProPlus)
Microsoft 365 Apps for business (formerly Office 365 Business)