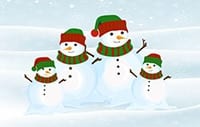 Only a few more days! Not only have you now been prepared for your online holiday shopping trips, but we also gave you a road map to organizing the craziness and chaos that comes with this season.
Currently, everyone is so busy preparing the food, buying the gifts, and cleaning the house, that sometimes the truly important aspects might slide in the background – such as talking to loved ones far away.
TechWise Group has a couple of team members that are all too familiar with the fact that seeing their families in person is not possible. Instead, they use a workaround: Skype.
Celebrate with everyone – no matter where they are!

Simply download the free Skype app to your mobile device, computer, or tablet and explore its best features!
Skype to Skype calls – Voice or video call anyone else on Skype for free, anywhere in the world.
Calls to mobiles and landlines – Call mobiles and landlines worldwide at low rates.
Group calls – Get a group of people together, on one call (you can add up to 25 people).
Instant messaging – Share messages or make plans with anyone, anywhere.
Screen sharing – Give presentations or simply show photos to the person on the other side.
During the holidays (and the rest of the year, for that matter) Skype video calls bring the family in Europe a tiny little bit closer, and Skype phone calls make it easier to pretend the rest of the family is simply one town over instead of an ocean away.
If you are in the same boat, you should give Skype a try. Unless you chose to put money in your Skype account to be able to make calls to non-Skype users, it is completely free.