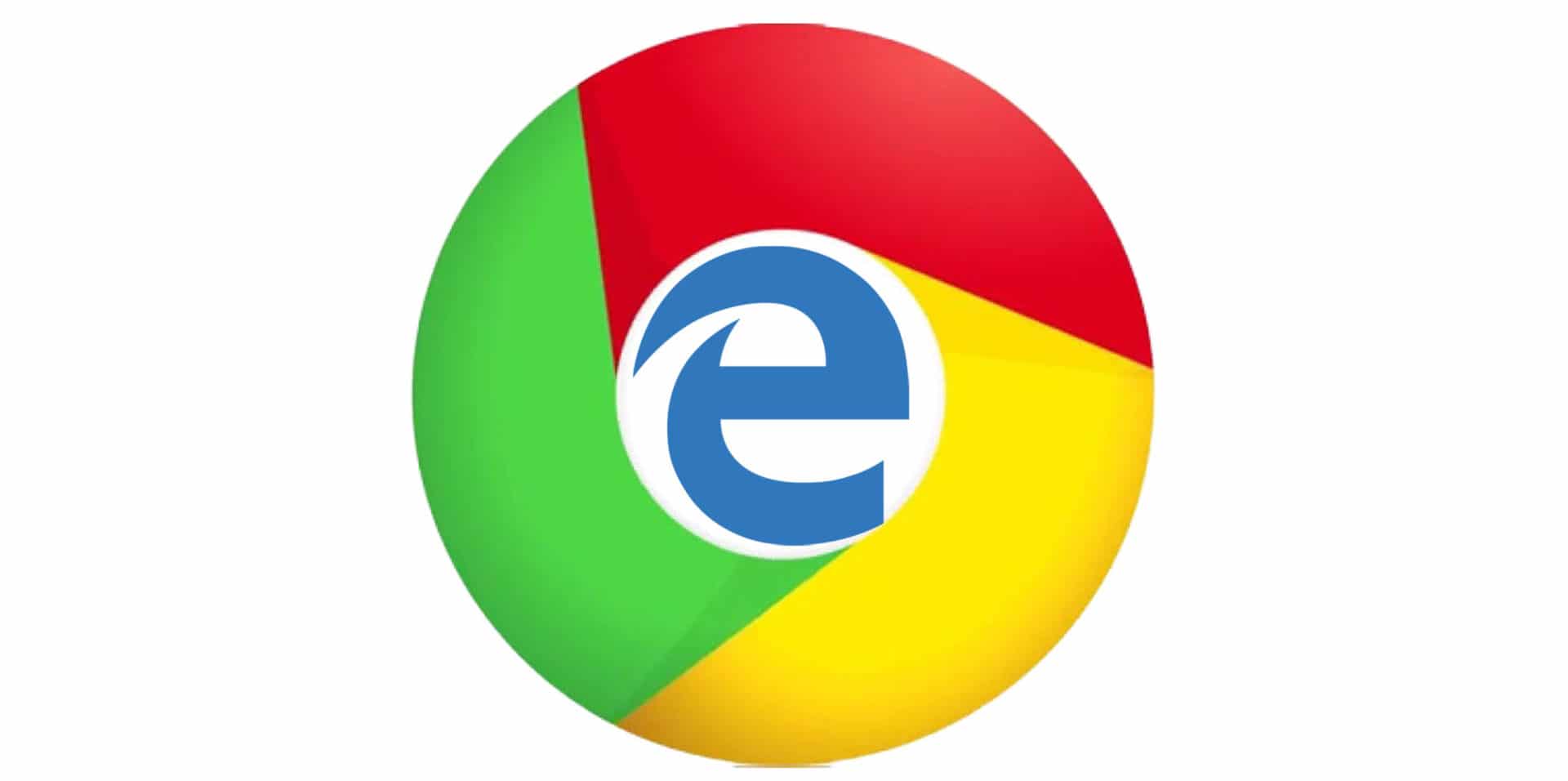 The Ultimate Review of Microsoft's Chromium Edge Browser
Microsoft is singlehandedly changing the future of Windows 10 with a new version of their web browser, Microsoft Edge. And we'll be honest, Edge has never really been a popular browser. But it seems the tides are now turning…
Over the past year, Microsoft has been rebuilding Edge from scratch on Google's open-source Chromium browser (a huge surprise given that Google is a major Microsoft competitor). And the final product—what we're calling Edge Chromium in this post—is very much worth your while.
But before we can queue you in on what's been happening with Edge, we need to go back and assess all the ways the original Edge browser fell short. Then we'll take a closer look at how the new version of Edge has evolved by comparison.
Microsoft's browser has truly gone through the ringer. But you'll be interested to know that the new Edge Chromium browser may be the fastest and safest way to get online by the end of 2019. And we'll explain why.
Let's admit—the first version of Edge was a disaster
The first version of Microsoft Edge came out in 2015 and it was designed to replace Internet Explorer. But as soon as the browser was released, something embarrassing happened…
Edge flopped… big time. And hardly anyone cared to switch over from Internet Explorer. In fact, nobody paid the Microsoft browser any attention at all and Microsoft CEO Satya Nadella was not happy. Even at the start of 2019, Microsoft Edge had only a 4.41% global market share when compared to Google Chrome's whopping 70.88%. Not a good sign.
So, why has Edge been so unpopular? And why hasn't it eclipsed the ol' Internet Explorer browser which everyone used at one point or another?
Let's take a look…
The 5 biggest problems with the original Microsoft Edge
Only works on Windows 10
If your PC is running on macOS or an earlier version of Windows, Edge is not compatible. This means that not everyone can use it…
Terrible compatibility
Edge uses a different rendering engine than Chrome or Safari. It uses Microsoft's own engine which is not open-source and, as a result, doesn't work well with some websites. It often causes loading issues.
Problems with mobile syncing
Even though Edge is available for Apple iOS and Android phones, people were not able to sync their favorites or bookmarks from their PC to their mobile device. This was a big drawback that many people complained about.
Not many extensions available
In 2017, Edge only had 70 extensions compared to Chrome which was counting upwards of 10,000. When it comes to personalizing your web browser with add-ons, it's clear that Edge has less options.
Ultimately clunky and slow
Overall? Many people's experience with the first version of Edge was not smooth and the user interface was not very intuitive.
Cut to the present and Microsoft is in the process of throwing away the old Edge browser entirely and building something new. But what is this new browser? And why exactly should any of us care?
Introducing a new kind of browser

Microsoft announced last year that they are rebuilding Edge to be a Chromium browser. But what exactly does that mean?
Well, you've likely heard of Google's browser, Chrome. But what you may not know is that what's fueling Chrome today (and many other browsers) is a powerful open-source code called Chromium (which also happens to be created by Google).
Please note the word open-source. That means that other companies (i.e. Microsoft) can contribute to Chromium and modify the source code to make it better. It also means that the browser is more compatible with other websites.
For these reasons, Microsoft decided it was high time to create a brand-new version of Edge—one that is entirely built on Chromium and addresses all the drawbacks users experienced in the first version.
But here's the next big question…
Is Microsoft working with Google then or…?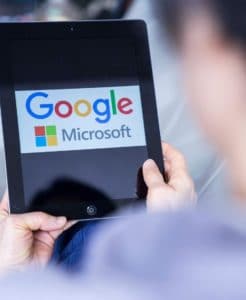 Microsoft has indeed joined hands with Google in a creative partnership. And with the two mega companies working side by side, they have built more robust and user-friendly browsers for Windows 10 and macOS.
The ultimate goal?
Make browsing the internet a better experience across devices and operating systems. And sometimes that takes working with your direct competitor to establish better web standards for everyone.
As a result, Microsoft's new Edge Chromium is proving to be a much more robust web browser than its competitors (like Safari, Firefox, and even Chrome).
But let's take a closer look at why.
Top 7 reasons Microsoft's new Edge Chromium is worth your while
Thanks to the Chromium backend, the new version of Edge is a breeze to use and truly makes browsing the internet a lot easier. It also just might be everyone's default browser for Windows and macOS next year.
Here's our top reasons why:
Simple, intuitive Design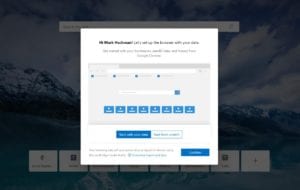 The user interface is not complicated and feels a bit like Chrome. When you open a new tab, you get options—pick a Focused, Inspirational, or Informational layout. Do you like seeing the news when you open a new browser? Pick the Informational layout. Maybe you just want your favorites front and center? Pick Focused.
It's easy and straightforward. And when you get started with the browser, you can import your Chrome data like passwords, favorites, bookmarks, etc. It takes seconds to set up everything and there are new capabilities coming that help you collect and organize information online.
Setting up Edge Chromium is extremely easy.
Speed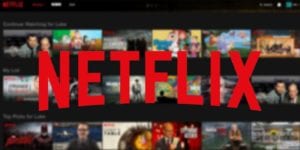 Arguably the most important factor when it comes to browsers. Microsoft Edge Chromium is still in development mode, but the improved existing Edge browser is now beating Chrome and Safari in terms of load time (and Edge executes JavaScript faster). Not only is the browser becoming the fastest in the market, Netflix and other streaming sites are also performing better on Edge because it provides up to 1080p and 4k resolutions.
Netflix and other streaming sites perform better on Edge Chromium.
More extensions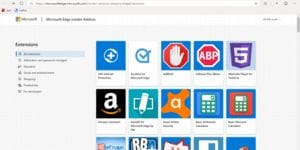 Add extensions from this Microsoft web page OR the Chrome Store. This is an awesome feature because the browser supports existing Chrome extensions. You now have way more options than the original Edge (popular extensions like 1Password and Ghostery work great!).
Search the Microsoft Store for available extensions.
Better web compatibility
Since Microsoft has joined the open-source community by building on Chromium, the browser now works with all websites and it has been tested to give your PC a longer battery life.
More inclusive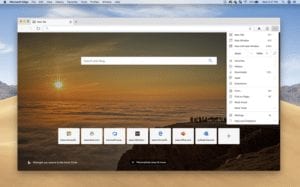 The browser is not exclusive to Windows 10 anymore. Microsoft is making sure Edge Chromium is supported across all versions of Windows and they are also bringing it to the Mac. This makes Edge more inclusive and easier to adopt.
Microsoft's Edge Chromium is available for macOS
Internet Explorer Mode
This is actually an awesome feature! For companies who still have old internal sites that are only compatible with Internet Explorer, Microsoft is adding "IE Mode" to their new browser. This IE mode can load content directly inside the new Edge browser seamlessly so that you don't have to open Internet Explorer in a separate browser to view an old website. Simply navigate to all your old sites from inside the Edge Chromium browser!
Internet Explorer mode is perfect for companies who still need access to IE.
Privacy
Privacy is a big deal and Edge Chromium may be one of the only browsers to have a dedicated Privacy subheading inside the Settings menu. We've also previously talked about how you can regularly clear your browsing data to protect your privacy inside Edge .
These capabilities along with the powerful ability to block web trackers are testament to Microsoft's commitment to the user's privacy needs. This is a big plus in our book.
Protect your data from websites with the new Privacy dashboard
Where can I get the Edge Chromium browser?
There are currently two "builds" that are available to test: the Canary and Development builds. These are essentially pre-versions of Edge that are available to try out.
Feel free to start testing out new capabilities today (as long as you don't mind a few bugs). Otherwise, Microsoft is predicted to release the official version of Edge either at the end of 2019 or at the beginning of 2020.
Interested in learning more?
Check out this YouTube video by Linus Tech Tips:
Edge is…actually GOOD now?