Tech Tip * March 9, 2016
Mean Screen Cleaning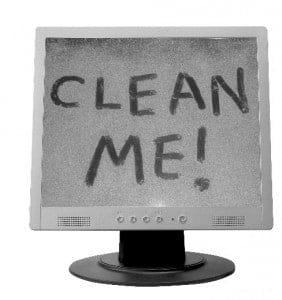 Staying with the theme of Spring Cleaning, we would like to suggest a safe and easy DIY option to clean your screens that doesn't require purchasing an expensive cleaning kit. 
Keep in mind:
Never

 

spray liquid directly onto the screen!

Do not, under any circumstances, use All-Purpose cleaners on your LCD screens!

If something doesn't come off easily, do not apply more pressure! Always be gentle!

It is best to disconnect the screens from their power source before getting started.
That being said, here is our

 

"Under-Five-Minutes-DIY-Cleaning-Project"

 

suggestion:
Apply a VERY small amount of plain distilled water onto a microfiber towel and gently wipe down the screen in a circular motion.

If heavier cleaning is required, use a mixture of equal parts white vinegar and distilled water. Apply only a minimal amount of the solution onto the microfiber towel and gently wipe the screen.