---


Underdogs of Office 365: Forms
To conclude our "Underdogs of Office 365" theme for the month of March we want to introduce you to Microsoft Forms. Just like with all the other apps we wrote about this month, not a lot of Office 365 users actually utilize Forms – even though it is very easy to use and has many features that can help your business accomplish everyday tasks. Don't believe us? Check for yourself.
---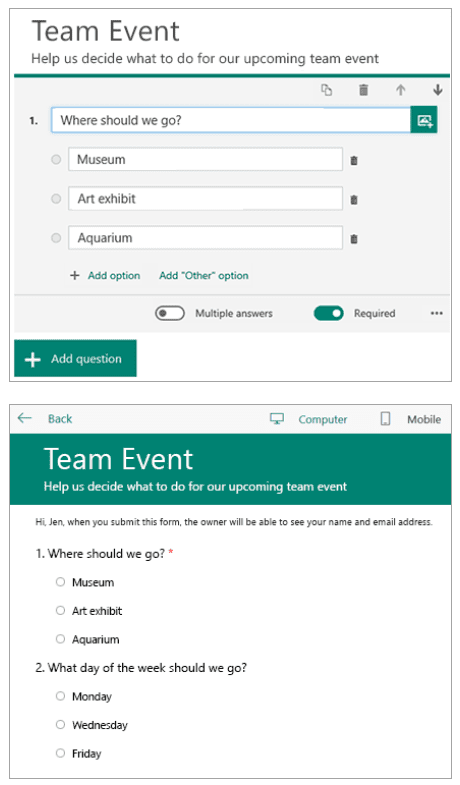 With Microsoft Forms, you can create surveys, quizzes, and polls, and easily see results as they come in. When you create a quiz or form, you can invite others to respond. They can do so by using any web browser, as well as their mobile devices. As results are submitted, you can use built-in analytics to evaluate responses. Form data, such as quiz results, can be easily exported to Excel for additional analysis or grading, and you can receive a total of up to 5,000 responses!
All you have to do to get started is Sign in with your Office 365 school or work credentials.

Create a form
Under My Forms, select New Form or New Quiz.

Enter a name for your form. You can also enter an optional subtitle for it.

Select Add Question to add a new question to a form or quiz. You can choose to add Choice, Text, Rating, or Date questions. (

For choice questions, enter the text you want to display for the question and each of the choices.)

Select Preview at the top of the design window to see how your form will look on a computer or mobile device.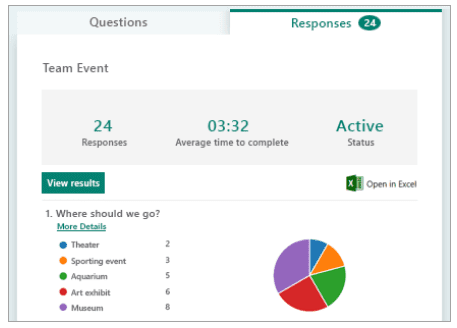 You are probably wondering if someone without an Office 365 account can participate as well, and the answer to your question is Yes! Microsoft Forms authors can toggle their settings to allow users outside of their organization to respond to their survey or quiz. In this case, users will be submitting responses anonymously.
Tip: If you want to see who has filled out your survey or quiz, you can require respondents to fill in their names as part of your questionnaire.
Notes: Microsoft Forms is available in Preview in the following Office 365 commercial suites: Office 365 Business Essentials, Office 365 Business Premium, and Office 365 Enterprise E1, E3, and E5 plans. Microsoft Forms is also available to existing Office 365 Enterprise E4 customers who purchased E4 before its retirement. 
---