---
The Two Best SQL Server Options for Your Business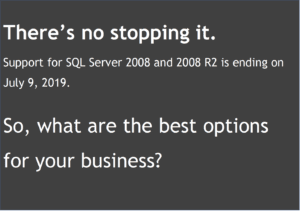 We talked about SQL on Azure. Cloud options for SQL share almost all of the same features found in on-premises SQL Server. In fact, there really isn't much difference when it comes to programming (no need to re-architect your entire infrastructure). We think that moving to SQL on Azure is absolutely feasible and it may be the smartest choice for your business. Especially if you value scalable databases, high availability, and dependable security.
There are two main versions of SQL on Azure: Azure SQL Database and SQL Server on Azure Virtual Machines. But what are the business reasons for picking one over the other?
Let's break it down into three main factors:
Administration
Ask yourself this question: do you want to manage your own database, do your own backups, and have full control over your application's performance and availability requirements? Or would you like Microsoft to manage that for you?
Azure SQL Database is a Platform-as-a-Service (PaaS) offering. This is different than SQL Server on Azure Virtual Machines which is an Infrastructure-as-a-Service (IaaS) offering.
The PaaS option means that Microsoft is doing all of your backups, monitoring performance tuning, and handling all the upgrades. Ultimately, there are hardly any administration needs which means you don't need an IT administrator and can save money that way. But it limits your ability to customize.
The IaaS option, on the other hand, allows you to have full control over the operating system and SQL Server instance configuration. You decide when to update the software. This is a great option if your company already has IT resources on hand to manage the virtual machines.
Cost
Regardless of how big your organization is, limited funding is a huge factor when deciding how to host your databases. It's important to evaluate the pricing for both SQL Database (PaaS) and SQL Server on Azure VMs (IaaS).
For the IaaS option, you will need to invest more time and money to manage your database. This is different from the PaaS option, where you receive administration features included in a base price. However, the benefit of picking the IaaS option is that it does allow you to shut down your resources when you are not using them to save money (PaaS is always running).
For both options, you can bring your own license. That's where Software Assurance on Azure is helpful or you can use Azure Hybrid Benefits (learn more about licensing in our last TechTip).
Key Takeaways:
Azure SQL Database has reduced administration costs, limited development costs, SQL Database service costs, and there are no hardware purchasing costs.
SQL Server on Azure VMs has a higher administration cost, but again there are no development costs for migrated applications. There are Virtual Machine Service costs, but no hardware purchasing costs.
For more information about pricing and licensing details, please contact TechWise Group.
Time to Move to Azure
Good news! Both SQL Database Managed Instance and SQL Server in Azure VMs allow for a super easy migration from on-premises. Migrating databases is made simple with both options and requires minimal changes to your application.
SQL Server in Azure VMs is particularly perfect for moving apps with large databases. It's also really easy to lift-and-shift all of your existing on-premise software to the cloud without changing anything.
As support for the old SQL Server option comes to an end, we want to help you make the best choices for your business moving forward. Don't for the inevitable. We highly recommend that you consider the two SQL on Azure options as a solution for your business.
If you want to learn more about how these options can help your organization, please don't hesitate to reach out to TechWise Group today!