Navigating SQL Server End of Support:
Your Guide to Planning Ahead
This month has been all about SQL Server! End of support for SQL Server 2008 and 2008 R2 is ending on July 9, 2019. That's why we've brought you the latest and greatest on how your business can get ahead of the curve with new SQL Server 2017 options that are right for you.
May Tech Tips – All About SQL Server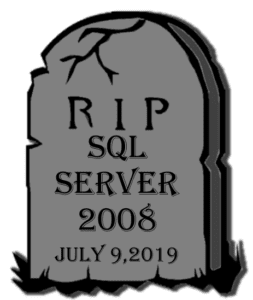 What Does End of Support Mean for Your Company?
New security threats are on the horizon if your company is running on unsupported versions of SQL Server. Avoid the panic of compliance issues. What are your options? Should You Migrate to the Cloud? You can update to current versions of SQL on premise, but it may be time to migrate to Azure. Explore options of SQL Server 2017 that are right for you.
Take a Deep Dive into your options after SQL Server 2008 End Of Support:
The Two Best SQL Server Options for Your Business
In Focus: Cybersecurity
The Cybersecurity and Infrastructure Security Agency (CISA) has published new guidelines which are recommended to implement for increased security for Office 365, we have been actively reaching out to our cloud customers to provide them with updates.
4 New Guidelines to Improve Security for Office 365:
Use multi-factor authentication for all user accounts. Make sure you have more than just a password set up.
Enable mailbox auditing. Collect more data in the event of a security breach.
Do not sync administrator accounts with Office 365. This will keep both your local and cloud environment safe from attackers.
Disable legacy protocols used for mail. They present a security risk.
If you have questions, please contact TechWise Group for more information.
Microsoft Announcements:
SQL Server and Windows Server 2008 End of Support
New and exciting features in Microsoft Teams for better collaboration are coming soon!
News Stand: